Connecticut Bus Accident Lawyers
If you or a loved one got injured or died caused by a bus accident in Connecticut the experienced attorneys at Jazlowiecki & Jazlowiecki Law will aggressively pursue your bus accident case to get you the highest possible settlement. Connecticut has experienced a number of high profile Bus accident cases that have received national recognition. Each day in Connecticut thousands of people go to work, school, and other destinations each trusting that they will arrive safely.
Bus accident victims deserve to be compensated for their injuries by those who are responsible.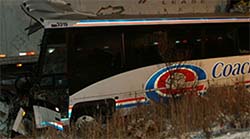 The Law Firm of Jazlowiecki & Jazlowiecki handles many Bus Accident lawsuits across the United States and Canada. Jazlowiecki & Jazlowiecki lawyers have significant experience when it comes to providing legal counsel and assistance to bus accident victims.
If you've been injured in a bus crash, you are encouraged to contact Jazlowiecki & Jazlowiecki so that you may know your legal rights and options.
Lawyers at Jazlowiecki & Jazlowiecki are in the process of filing a lawsuit on behalf of over 36 bus crash victims after a bus accident in North Hudson, New York in July of 2014. The Bus was travelling to New York City from Canada, when the bus rolled over on I-87 killing one passenger, and injuring dozens of others.
Jazlowiecki & Jazlowiecki obtained a six-figure settlement for a young woman who was injured in a Greyhound bus accident in Alabama in 2012.
Jazlowiecki & Jazlowiecki currently represent victims who were hurt in a bus accident in Wayne, New Jersey and also represent other victims who suffered injuries in a similar bus accident in Philadelphia, Pennsylvania.
Jazlowiecki & Jazlowiecki represents the Estate of a young woman who tragically lost her life when the bus she was travelling in crashed on I-81 in Lake George, NY
A tragic bus accident occurred in Western New York that resulted in more than 40 people injured and 5 fatalities. Indications were that the bus driver, after staying awake gambling for more than 38 straight hours, fell asleep at the wheel while transporting the victims. Jazlowiecki & Jazlowiecki represented 7 injured victims, the deceased and their estates resulting in a multi-million dollar settlement for the victims which cannot be released due to a confidentiality agreement.
A bus crash in the same area of Geneseo, New York injured 20 Canadian Citizen Passengers from the Sun Parlour female hockey team of Windsor, Ontario, and killed 4. The cause involved the bus driver falling asleep and rear-ending a semi-truck; splitting the bus in two. Jazlowiecki & Jazlowiecki represented 4 of the victims including the Estates of the deceased for this crash. He and 2 other law firms settled the case for thirty-six million dollars ($36,000,000.00).
Jazlowiecki & Jazlowiecki represented 14 people in the crash of a Greyhound bus traveling on Route 380 Just north of Scranton, PA. The bus originated in NYC and was heading to Toronto, Canada. The bus driver fell asleep at the wheel in the early morning hours cheap software causing the bus to crash and roll over – injuring 42 passengers, mostly students from the U.S and Canada. Road and weather conditions were ruled out as a contributing factor and the driver has been cited for careless driving and traveling outside of roadways laned for traffic. Indications were that the driver fell asleep.
A Greyhound bus crashed in Baltimore, Maryland, on Route I-395 injuring about 22 people on-board. Attorney Jazlowiecki represented one of the passengers who were seriously injured. Their claims were settled for an undisclosed amount.