Connecticut Auto Accident Lawyers
If you or a loved one suffers from an injury caused in a auto accident in Connecticut the experienced injury attorneys at Jazlowiecki & Jazlowiecki Law will aggressively pursue your injury case to get you the highest possible settlement. Each day in Connecticut thousands of people are injured on Connecticut state roads.
Auto accident victims deserve to be compensated for their injuries by those who are responsible. If you have a loved one who has been the victim of a Vehicle accident, contact us. We are available for auto accident investigations and litigation throughout the United States.
Do You Have A Car Accident Case?
While every accident is unique in what caused the event, there are several common causes: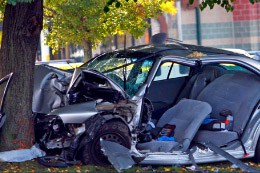 1. Distracted Driving: Distracted driving is becoming one of the leading causes of auto accidents. In most cases, the driver is distracted by their cell phone. However, distractions can also occur when the driver is using the radio or GPS, is looking for something in the car seat next to them, is avidly talking with passengers, or is looking at something on the side of the road. See Connecticut General Statutes for Laws on Cell Phone Use While Driving Sec. 14-296aa.
2. Unsafe Road Conditions: Road conditions can change quickly with the New England weather and lead to driver error. Also, construction zones and traffic jams, notorious on I-84 and I-95, can also lead to unsafe road conditions and accidents.
3. Driving Under The Influence: Drivers who have been consuming alcohol or other substances can be very dangerous on the road. Decision making and response skills are often slowed, and drivers' judgment can be impaired. A lot of accidents occur when one driver is under the influence.
4. Reckless Driving: The driver of the other car may have acted recklessly while driving. This could include weaving in and out of traffic, excessive speeds, not obeying traffic signals or even dangerous turns.
5. Malfunctioning Equipment: Sometimes an accident occurs due to a manufacturers defect in the automobile such as a defective airbag, an ignition switch problem as seen with GM, and a host of other possible issues including brake, engine and seatbelt problems.
Auto Accident Statistics:
Each year there are more than 1 million whiplash cases reported in the United States.
Each year there are more than 3 million injuries from transportation accidents.
Each year more than 10,000 people will die in U. S. drunk-driving crashes – 1 in every 50 minutes.
500,000 truck and commercial vehicles were involved in accidents in 2010.
Each year, more than 100,000 motorcycles are involved in crashes according to stats from the NHTSA.
Motorcyclists are 39 times more likely than passenger vehicle occupants to be killed in a crash according to NHTSA.
Representing Vehicle Accident Victims:
18 Wheeler Truck Accidents
Auto Accidents
Bus Accidents
Construction Vehicle Accidents
Heavy Equipment Vehicles
Limousine Accidents
Minivan Accidents
Motorcycle Accidents
Scooter Accidents
SUV Rollover Accidents
Taxi Accidents
Tractor Trailer Accidents
Truck Accidents
Shuttle Van Accidents
Truck Accidents