Connecticut Aviation Accident Lawyers
If you have lost a loved one in an aviation accident the experienced injury attorneys at Jazlowiecki & Jazlowiecki Law will aggressively pursue your case to get you the highest possible settlement. The unexpected death of a family member from an aviation accident can leave a family with financial loss, medical bills, funeral expenses, and the loss of income can be financially devastating to your family.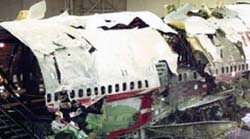 Aviation accidents are among the most difficult and traumatic tragedies to deal with. The experienced aviation lawyers at Jazloweicki Law know you will need help working through your loss, and we're here to handle the complicated legal proceedings surrounding your loved one's death.
If you have a loved one who has been the victim of an aviation accident, contact us. We are available for accident investigations and litigation throughout the United States.
Aviation Accident Statistics:
50% of all aviation accidents are caused by pilot errors.
21% of all aviation accidents are caused by mechanical error.
21% of all aviation accidents are caused by bad weather conditions.
80% of all aviation accidents can be attributed to some type of human error.
Pilots with less than 100 hours of flying time account for 45% of all fatal aviation crashes.
Helicopter accidents crash statistics show a rate was 7.5 for every 100,000 flight hours.
Aviation accident crash statistics show a rate of about 0.175 per 100,000 flight hours
 Representing Aviation Accident Victims:
Airline Accidents
Air Show Accidents
Aviation Accidents
Cargo Plane Accidents
Charter Plane Accidents
Commercial
Helicopter Accidents
Private Jet Accidents
Sightseeing Air Tour Accidents
Small Plane Accidents